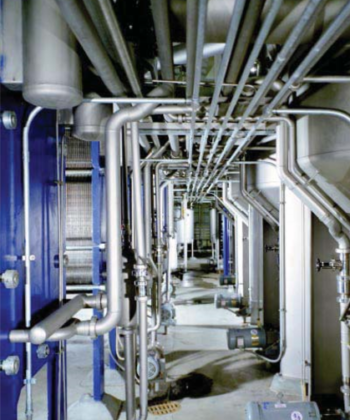 Pilot installation for dealcoholisation process
Pilot dealcoholisation station is a perfect solution for product research and development, offering reliable and easy to use configuration, also useful for the preparation of smaller production batches.
Pilot delacoholisation installation has been designed for the capacity of up to 2.5 hl/h, and its compact design provides opportunity for its installation in most confined spaces. Maximum capacity of the pilot station is 7.5 hl/h of the finished product.
Suitable for dealcoholisation of virtually any type of product,  equipped with aroma recovery system, mobile and available from API Schmidt warehouse in Bretten.
The unit consists of exactly the same components and sub-assemblies that are used in production systems of higher capacity.
Each pilot installation designed at API Schmidt is developed according to the customer's requirements and may be designed as per investor's individual requirements and for a specific product, considering its properties and their variability throught the alcohol removal process.