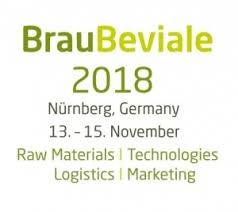 We invite all our customers to meet JMR Europe and our sales partners on Brau Beviale 2018 show in Nuremberg. The fairs will take place on 13-15 November 2018.
BrauBeviale 2018 is the world's most important capital goods exhibition for the beverage industry this year, bringing together trade visitors from Europe and around the world to discuss high-quality raw materials, advanced technologies, efficient logistics and lively marketing concepts.
This year's event will extend to a total of nine exhibition halls and is expected to attract about 1,100 exhibitors with innovations and solutions covering the whole process chain of beverage industry. Discover solutions for your business and talk with experts on trends for the production of beer, water, non-alcoholic drinks, spirits, wine, sparkling wine and liquid dairy products.
On 12 November 2018, the day before the main exhibition, you can enjoy the compact professional development events the European MicroBrew Symposium and the Heirloom & Terroir Barley and Malt Symposium . Awaiting the beverage industry during the three days of the exhibition itself, 13 to 15 November 2018, is an extensive supporting programme that will provide creative ideas for all the challenges currently facing the beverage industry. You can look forward to inspiring presentations at the Forum BrauBeviale, a wide range of themed pavilions, exciting award presentations, e.g. the European Beer Star , and guided tasting sessions in the Craft Drinks Area.
You can meet us on booth API Schmidt-Bretten GmbH.
You can meet us on booth Centec GmbH.
You can contact us under mobile numbers : +48 601 424 429 oraz +48 538 355 040
See you on Brau!